Day 2 and we are going strong. Come check out some of today's special events!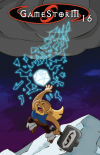 Guest of Honor Theatre Arcanos show you how you might survive in the world of the Dresden files in 'Summit Arcane'
Pandemic: The Cure Tournament: A new dice game based on the popular Co-op game seen on TableTop.
PDX Broadsides Concert: Unwind at the end of the night with some music and fun.
And lots more. Come see whats going on!