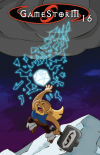 Moving into the weekend. We are on day 3. Here are some more great events today!
Shane Hensley, Creator of the Savage Worlds Role Playing System, talks about the future of Savage Worlds and game design.
Like Puzzles? Than check out puzzle master Mike Selinker's talk about puzzles, games, and more
Dead Gentleman Productions' latest release, The Gamers: Hands of Fate, will be screened! Come see the continuing adventures of your favorite troupe of Role Players.
RAWR! The DoubleClicks will be performing a live concert. Come join them.
More Tournaments, more games, and more fun awaits at the convention.