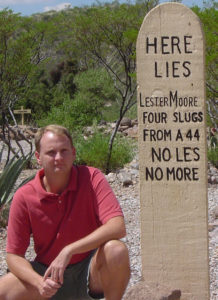 We are pround to announce Shane Hensley as our RPG guest of honor for GameStorm 16.
Shane Hensley started writing for West End Games' Torg line in 1992, then went on to work on everything from role-playing games to computer games, novels, collectible card games, and miniature games. An extensive list of Shane's projects can be found at Pinnacle Entertainment Group's official website. He's particularly proud of his early freelance work on TSR's Ravenloft and Dark Sun.
These days, Shane is best known for creating Deadlands: the Weird West and the Savage Worlds RPG system. He was also a lead designer on City of Heroes / City of Villains and later an Executive Producer on several large titles such as End of Nations and Neverwinter.
Shane lives in Chandler, Arizona, where he loves to run in the hottest part of the day (some say he's part-lizard) and play games with his beautiful wife Michelle and their two sons, Caden and Ronan.