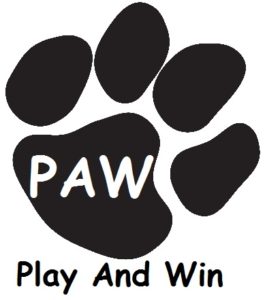 What is the P.A.W. Program?
P.A.W. stand for Play and Win! The P.A.W. Team has a partnered with game companies and Envoy who have donated games for us to give away. The rules are simple- you play a donated game and become eligible to win it.
How do I Participate?
The simple answer is in the name- Play and Win. Play one of the PARTICIPATING GAMES then fill out a Game Log to enter to win that game!
What are the Rules*?
Sign Up for (and attend) one of the many PAW Demo sessions OR check out an eligible Participating Game from the GameStorm Game Library.
Play the game!
Fill out the Play and Win Game Log.
Return the Game Log to the Library or the P.A.W. HQ Table.
We'll be in the Grand Ballroom at tables M1, M2, M3, M4, N1, N2, N4, P1, P2, P4, Q1, Q2, Q4
It's just that simple!
The PAW Program Runs Thursday 2:00 PM – Saturday 10:00 PM
All entries must be submitted by 10:00 PM on Saturday.
Winners will be announced and given their prizes at the Winner's Circle starting 2 PM on Sunday in the Lounge.
And for more in-depth information we have a website link: https://sites.google.com/view/gspawprogram/
Contact Info: