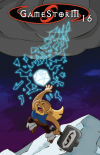 Welcome to GameStorm 16! Registration opens at noon in the Convention Center Lobby.  Sign up sheets will be located near the rooms to sign up for games and events.  The program book is also available the website off the front page. Some of today's feature events include:
Live Action Ricochet Robot: In Alder all day. Come see how hard it is to move large robots compared to the original.
Z-Man Games Prototype Demo: Come see one of our Guests of Honor showing off the latest prototypes in  the Game Lab
Also remember that all weekend long we will have the ongoing Puzzle Hunt, Giant Jenga and more! Come Join us!