We here at GameStorm are flattered by the amount of support we have received i the last 48 hours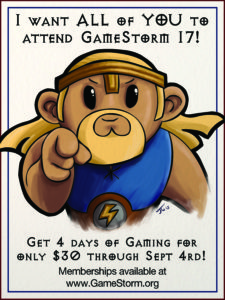 . Games can be played anywhere: in your living room, at a bar, between classes at school, or even [gasp] at another convention.  However, it's the people that add the flavor to any gathering.  We who produce the convention, treasure the sense of community that has evolved over the years at GameStorm.  As a token of our appreciation for our fan base, we have extended the Extreme Early Bird Sale through September 4th!
Spread the word!  Maybe you know someone who has been holding out, trying to decide whether or not they should go, and just needs that little extra nudge.  Now is the time to tell them about the people you've met, the experiences you've had, and the games you've played at GameStorm!
4-Day Memberships are available for only $30 through September 4th!
If you have any questions relating to membership, please contact registration.